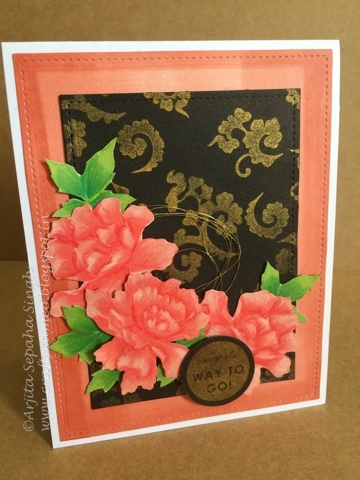 I am super excited for my card today as it was created with a different thought and mindset. Me and my friend Riti came up with this idea of motivating each other to use the craft stuff lying with us.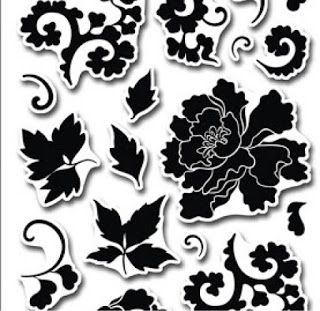 So we randomly picked up a stamp (by picking up a chit ;).....seriously we actually did it ...lol) and got this pretty stamp called LACY SCROLLS by our favourite company Altenew. We had been hoarding it forever .... so we gave each othe 24 hours to create something and share.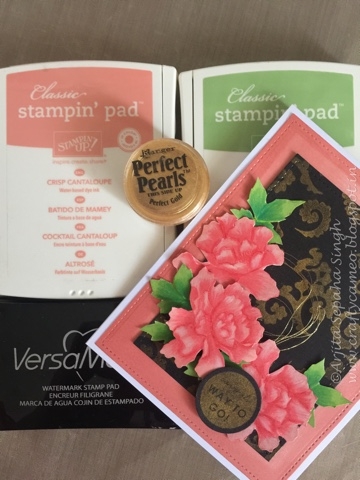 I created a golden background using a golden perfect pearls powder and few flourishes from the stamp set. I stamped the images with a versamark ink and brushed over some perfect pearls to get the golden patterned paper. I used the Lawn fawn stitched rectangles to cut a nice crisp rectangle from the black PP.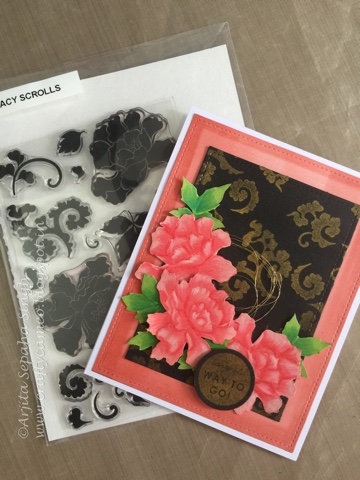 I also made a coral coloured card stock using the ink pad (SU crisp cantaloupe) . This is a very easy way to match and customise your CS with the stamped images. I stamped the two big flowers form the stamp set with StampinUp! crisp cantaloupe ink and then added shading with prisma coloured pencils. I used the same technique to colour the leaves which I had stamped with SU wild Wasbi ink. I used a fine pair of scissors to fussy cut the flowers and leaves. Finally I arranged all the pretty elements on the card using some foam tape and layered it over a white card base. Added some golden twine and a golden sentiment to add more interest.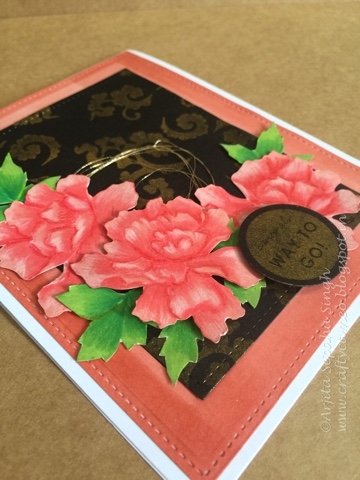 This was a very interesting Hoarder's challenge/time challenge ;) Riti picked me for. I am pretty happy with this card and hope Riti will also like it. Thanks for all the fun........Will look forward for some more card making fun in future . Check out Riti's Card at her blog as she had created a stunning masterpiece but using just one Colour....hats off to u girl! http://www.alilpieceofheaven17.blogspot.in/2015/07/card-making-fun-with-arjita.html?m=1 love Arjita