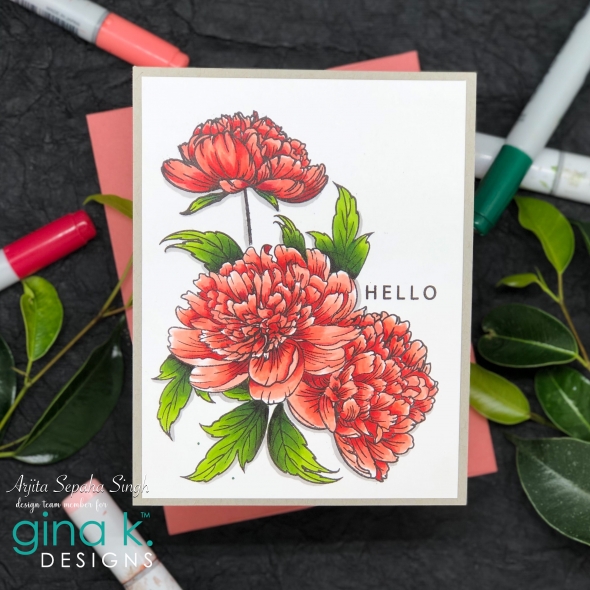 Welcome to Day 3 of the Gina K Designs card kit & Illustrator Blog Hop where we showcase the gorgeous new stamps & Die release for June 2020. Today I have used the NATURE'S TOUCH CARD KIT. This kit is loaded with amazing Nature themed stamp sets along with a beautiful ORNAMENTAL FANS stencil and coloured card sheets. This is a must have card kit and I have used all the beautiful sets to create my cards today.
Kit includes:
Natural Silhouettes 6" X 8" stamp set
The Best Flowers 6" X 8" stamp set
Hands of Love 4" X 6" stamp set
The Best Flowers Die Set
Ornamental Fans Stencil
2 sheets of Coral Reef card stock (8 1/2" X 11")
2 sheets of Sea Glass card stock (8 1/2" X 11")
2 sheets of Lucky Clover card stock (8 1/2" X 11")
2 sheets of Tranquil Teal card stock (8 1/2" X 11")
Clear plastic storage box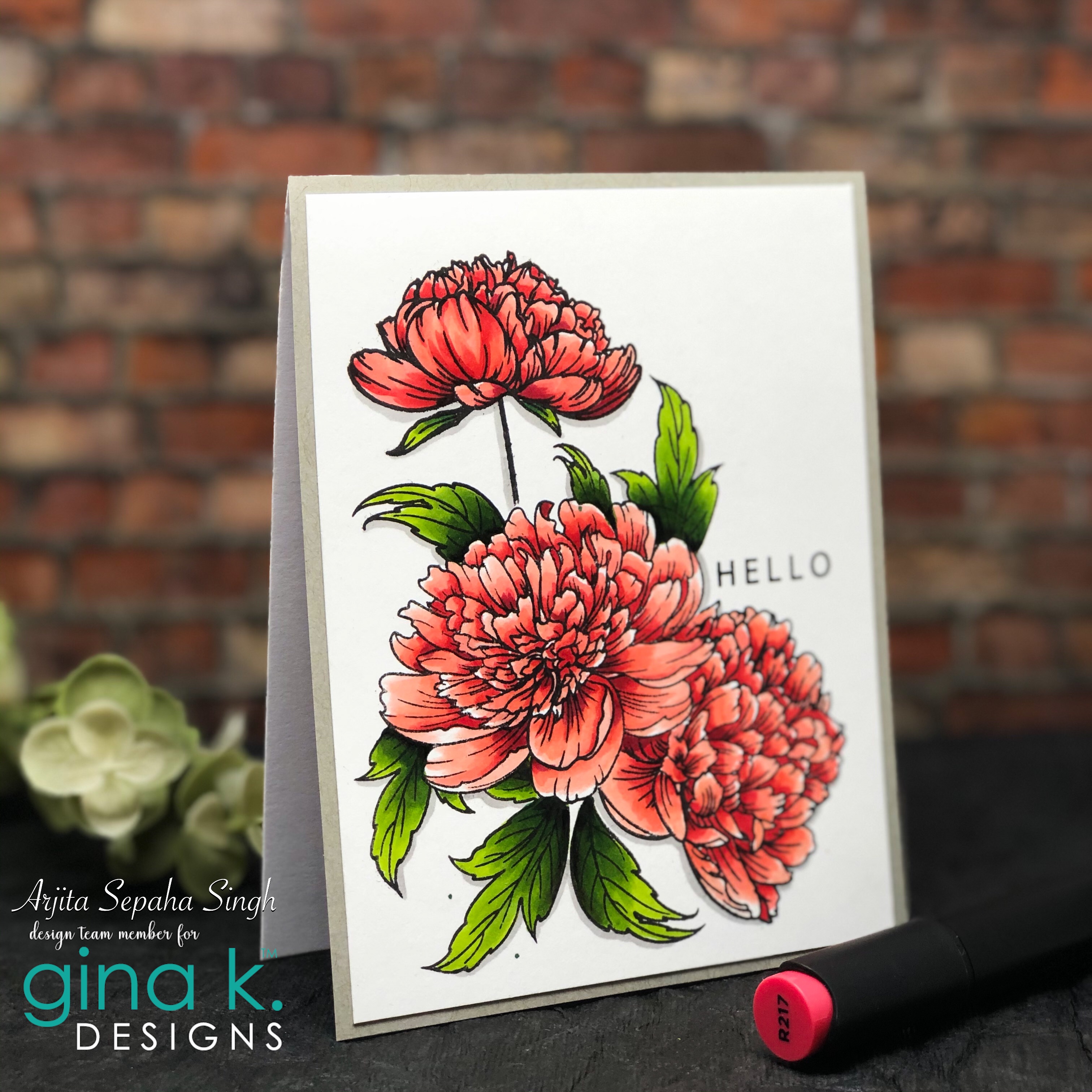 For the first card I used the gorgeous THE BEST FLOWERS STAMP SET and stamped it with Gina K. Designs Obsidian Amalgum ink. I used the Gina K Artist choice paper for this card as it allows copic coloring beautifully. I stamped a cluster of these very detailed flowers and coloured them in coral shades. I finished the card with a delicate sentiment and matted the colured panel on a grey card base.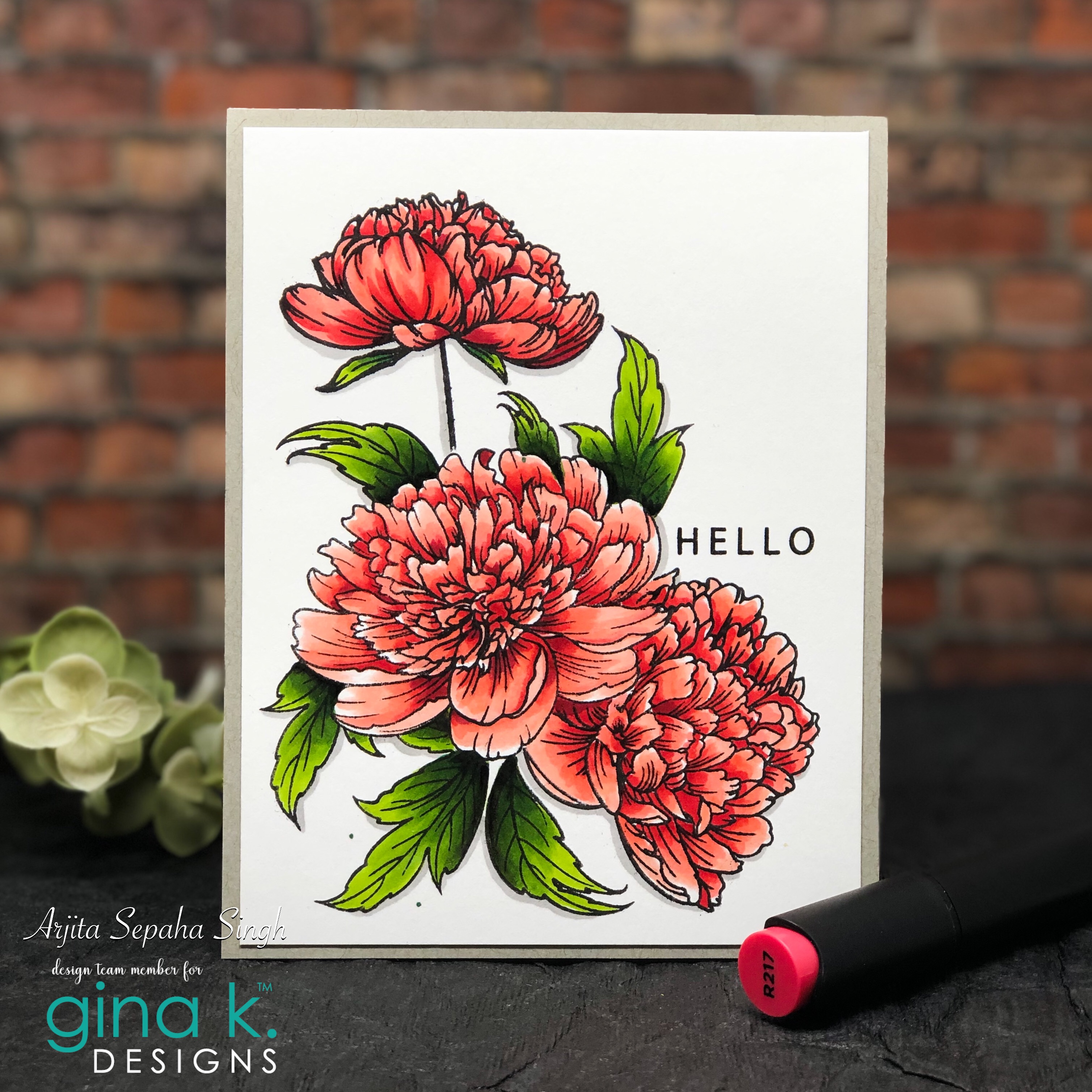 For the next card I stamped a single flower from the same stamp set on a tan coloured card panel with Gina K Designs Amalgum Ink-Whisper to do no line pencil colouring. I used Prisma Colour pencils to colour the petals and leaves. I love pencil colouring and specially on such beautiful flower images like this one. I kept the card very simple and finished it with just a sentiment stamped with Black Ink.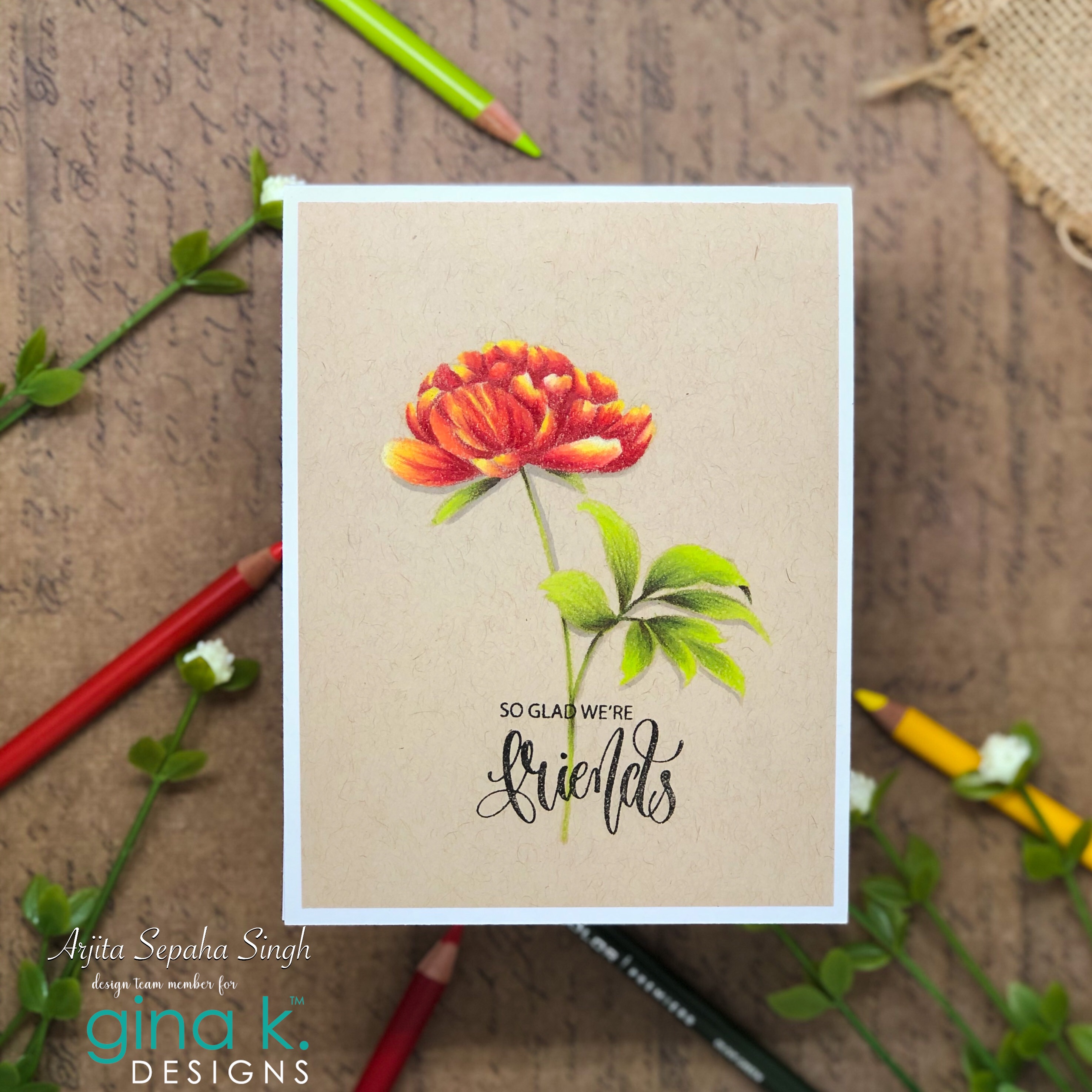 I matted the tan card panel on a white card base and added a thin grey line around the image to add a shadow.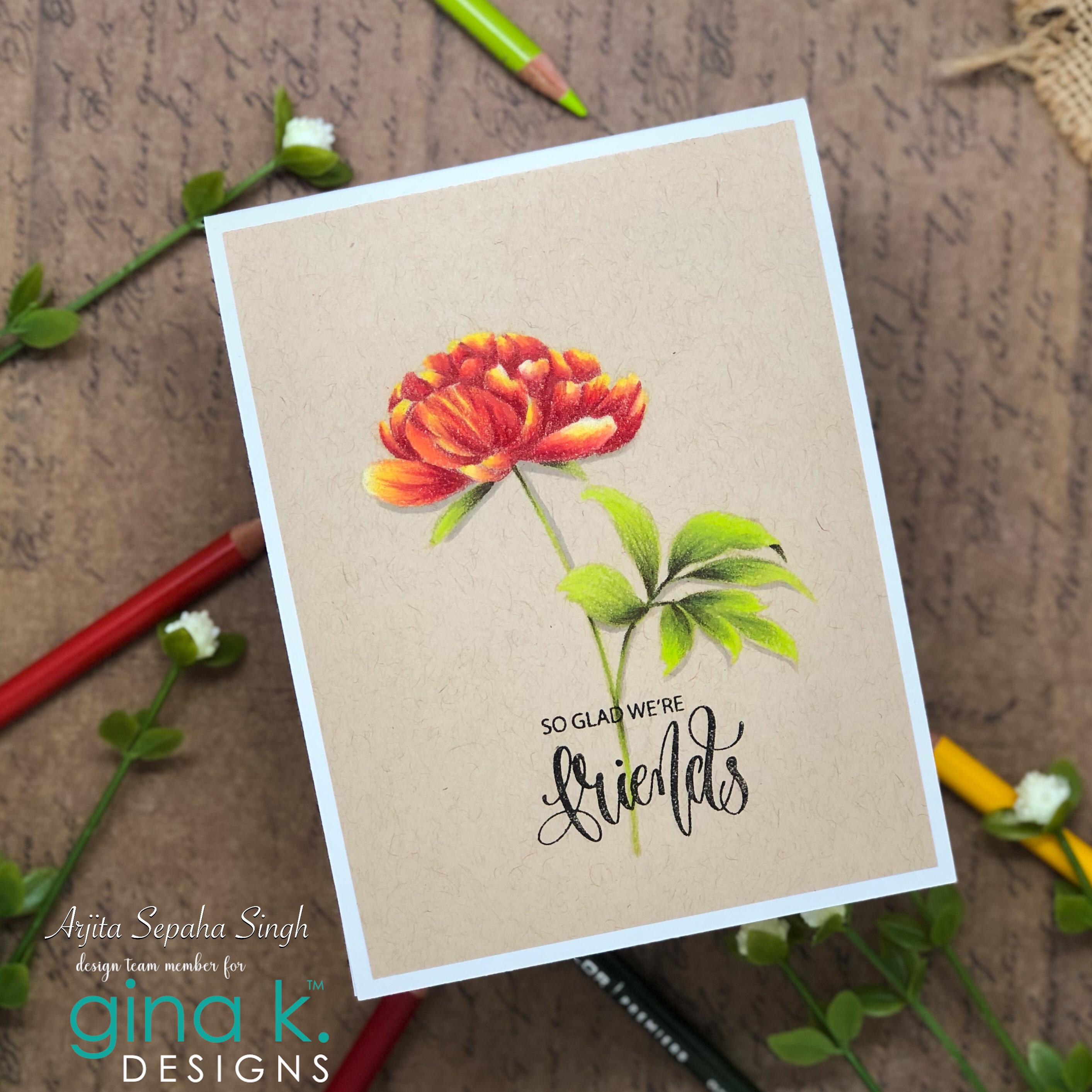 For the next card I used the stencil from the kit and stencilled Gina K Designs Ink with a blender brush on a kraft card stock. I used the MASTER LAYOUTS 1 dies to cut the karft card and also a black card. These two layers mat perfectly and create the most beautiful thin border which Gina Is so popular for. Then I used the both the ovals from the Master Layouts die set and cut them with some white and black card stock.I used the NATURAL SILHOUETTES set to stamp two trees on the white oval and a delicate sentiment in black ink. I arranged my card and also added Gina K Designs Black Gingham ribbon.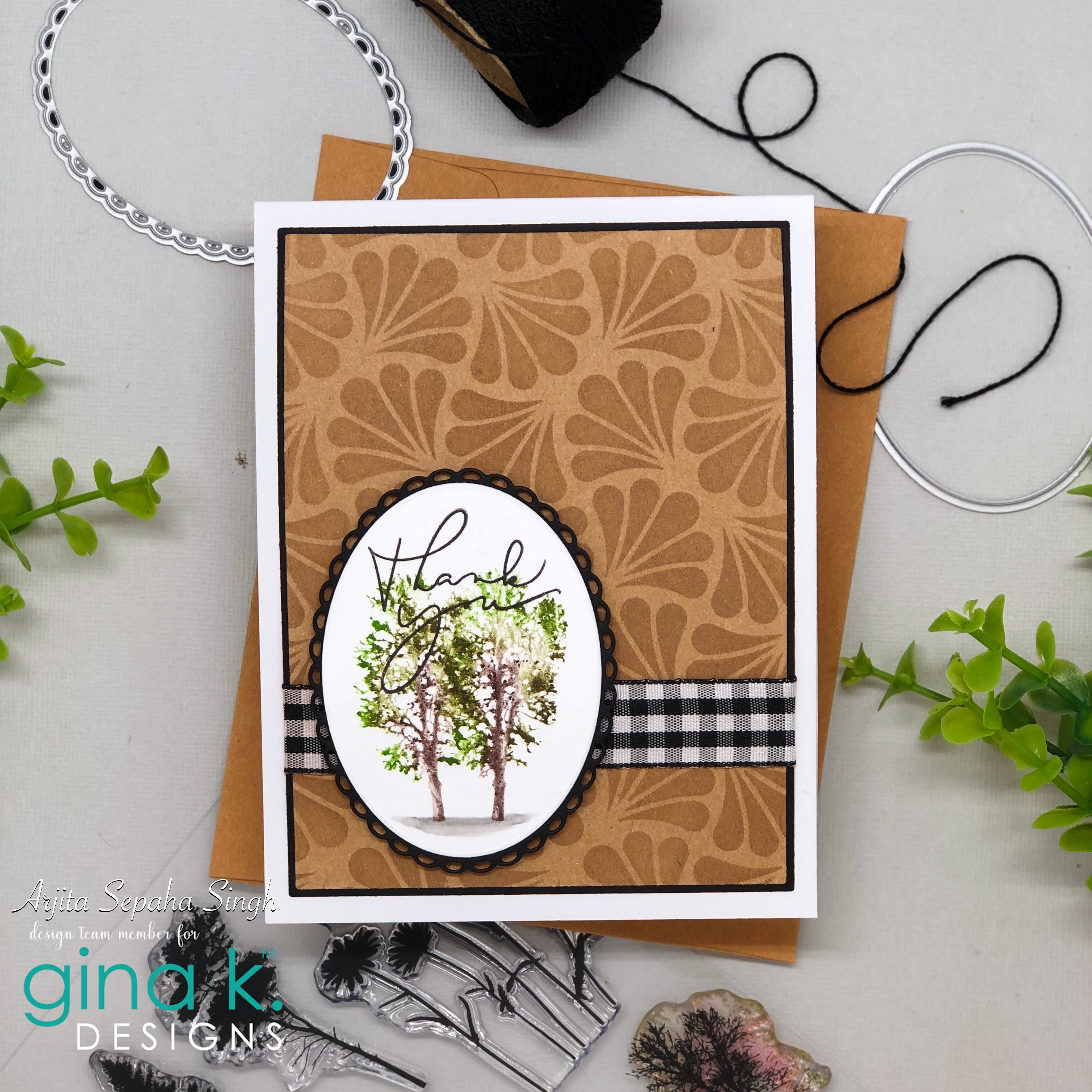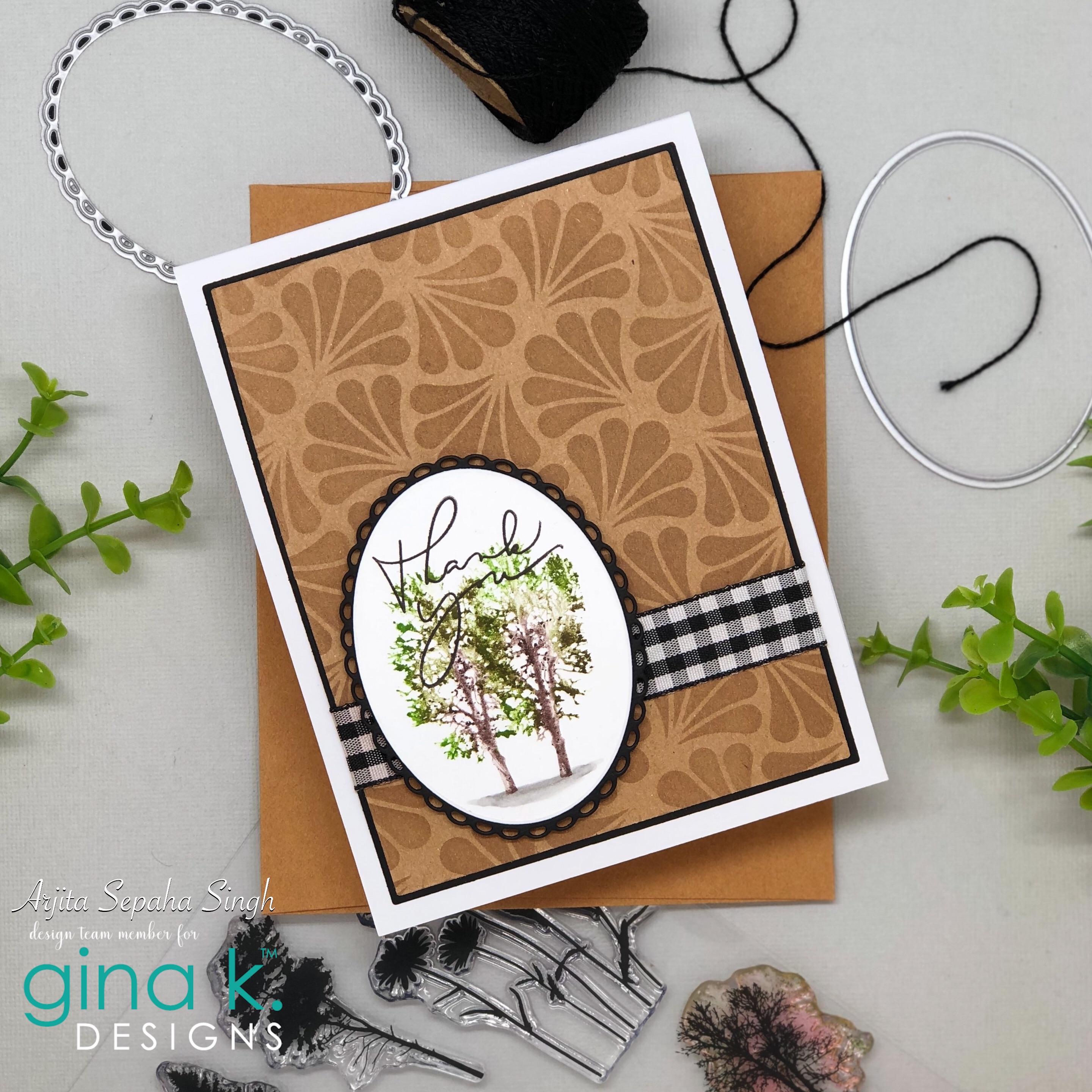 For the last card I painted a watercolour sheet in shades of yellow and orange to create an ombre.Then I stamped the images from the NATURAL SILHOUETTES set with Gina K Designs Obsidian ink on the water coloured piece. I used the FRIEND die to cut a black card stock and adhered it on the card, then I also stamped a sentiment from the HANDS OF LOVE stamp set to complete the sentiment.I used the tiny black heart from the new Gina K Designs Embellishments release.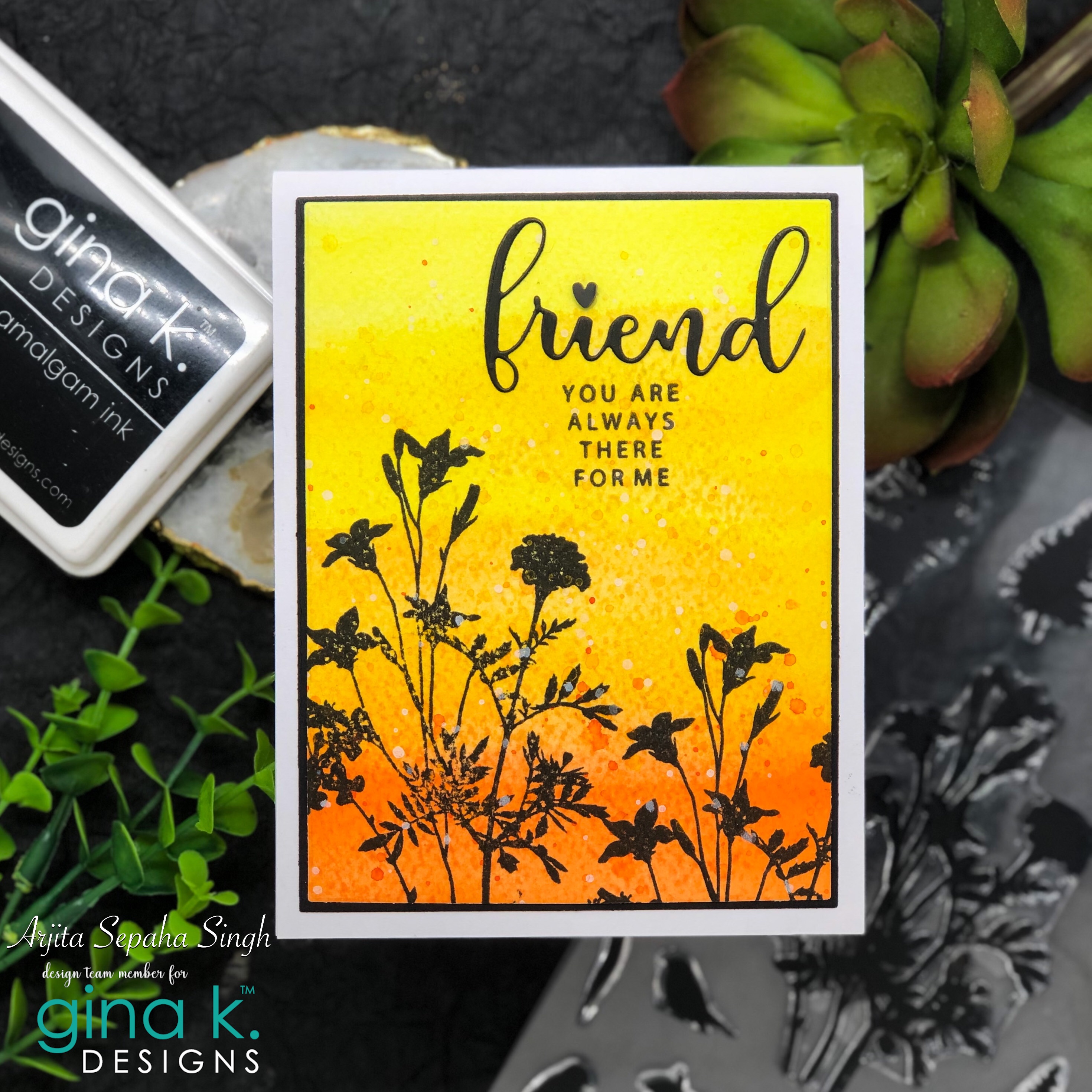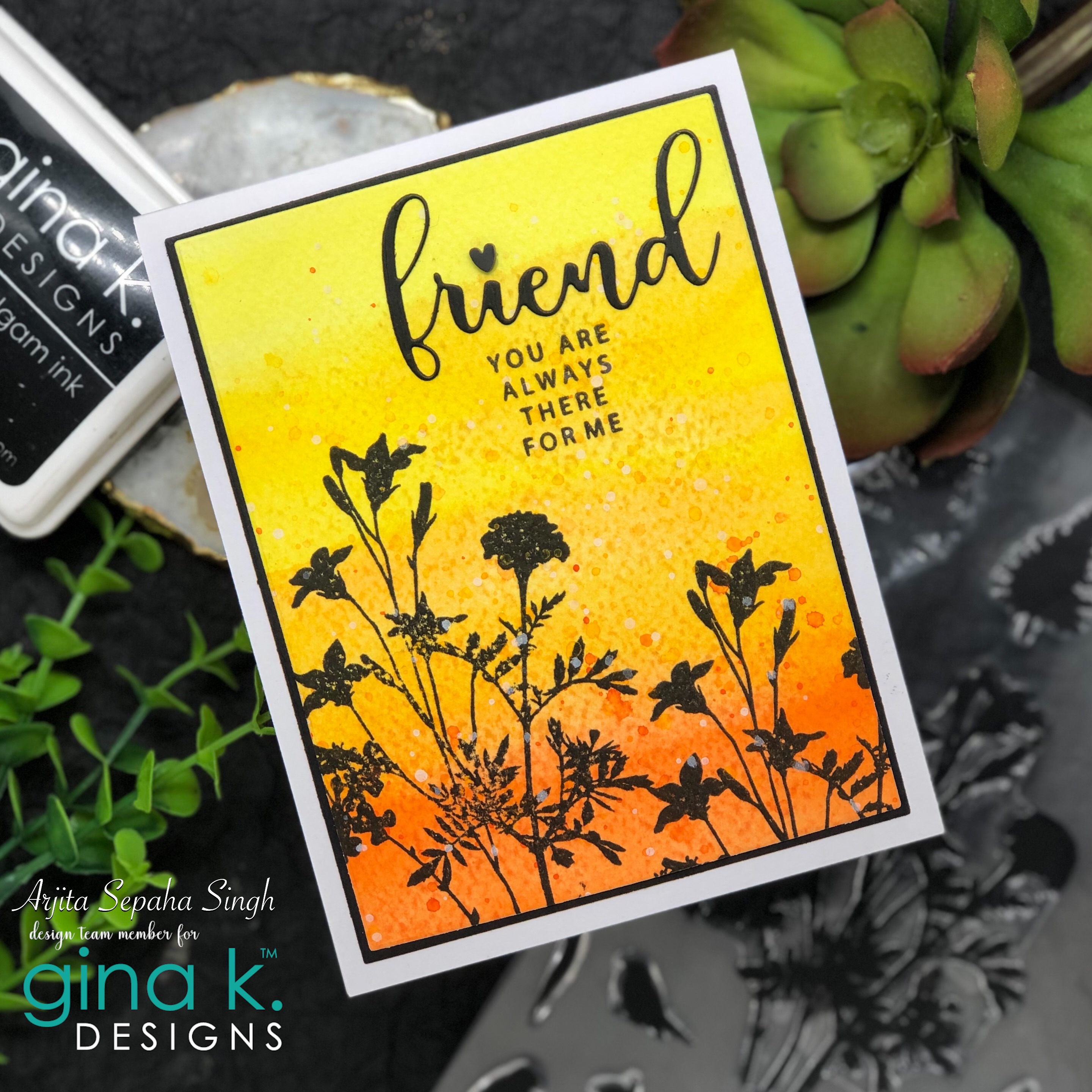 Now I would Like to invite you to join us for the blog hop and the next hop is at the amazing Beth Silaika's Blog. Do not forget to comment on all the blogs so that you can win a chance to win a $50 gift Certificate By Gina K Designs and the winners will be announced on Gina's Blog.
To start at the beginning of the hop or see the whole list click
To Shop Click www.ginakdesigns.com
I hope you liked the cards I created using the gorgeous stamp sets.Thank you so much for stopping by...
see you soon
Hugs and love
Arjita
Supplies
Nature's Touch Card Kit - Gina K Designs

Artist's Choice 110lb White Card...

Connect Glue - Gina K Designs

Tidy Towel - Gina K Designs

GKD Amalgam Ink Pad- Obsidian - Gina...

GKD Amalgam Ink Pad- Whisper - Gina K...

GKD Color Companions Ink Pad- Warm...

GKD Color Companions Ink Pad- Jelly...

GKD Color Companions Ink Pad- Fresh...

GKD Color Companions Ink Pad-...

Master Layouts Dies - Gina K Designs

"Friend" Die - Gina K Designs

Embellishment- Black and White Hearts...

Original MISTI Stamping Tool - Gina K...