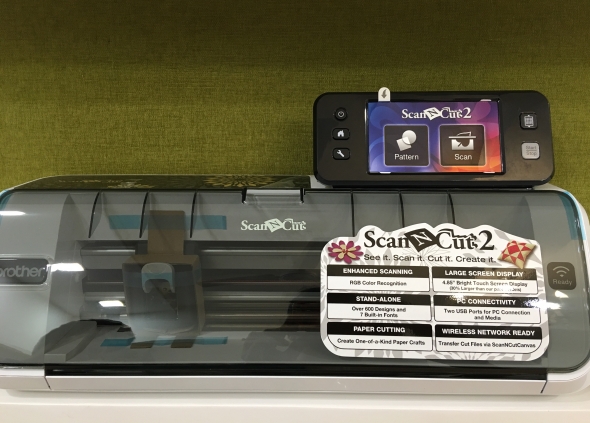 I love my silhouette cameo and use it all the time to cut and draw images. I have also tried the scanning with it which is also a nice option to have. The Silhouette Cameo and Brother ScanNCut diecutting machines are similar but different. The Cameo and ScanNCut both have the capability to cut the same types of materials, but the softwares are quite different. The Cameo has a huge online library of designs which is great for creating custom designs and is a computer dependent machine,on the other hand the ScanNCut comes with few designs but is a stand-alone machine.
The Brother ScanNCut is one of the only die cut machines with a scanner hence makes it costlier than the Silhouette Cameo. The built-in 300DPI scanner allows stamped images, drawings, photographs,digital images etc to be scanned & cut by the machine leaving a border if u wish to.
Some features of the Brother ScanNCut include:
(ref http://personaldiecutting.com/silhouette-cameo-vs-brother-scanncut/)
Cut and draw up to 12 inches by 24 inches
Built-in 300 DPI Scanner to scan and create designs.
USB drive input for saving files or importing new designs
Internal memory for storing custom designs
Full color LCD touch screen to edit designs.
STAND ALONE MACHINE
The ScanNCut is a stand alone machine as it has a touch screen to edit and manipulate designs and it need not be plugged in a computer to perform its basic job. You can use the free Brother ScanNCut Canvas software,that allows users to import jpg and svg file types. You can import designs that were created on the computer, but you will need to use a USB drive to transfer the files from the computer to the machine. The Brother ScanNCut does come with some pre-loaded designs and fonts.
I got mine few days back and wanted to share the unboxing of tis amzing machine. I will list the products which come along in the box .
4.85"LCD Touch Screen Display
wireless Network ready
Online Activation Card (not included) optional
USB cable
Buit-in Designs- 631
Buit-in Fonts -7
Color Recognition
SVG File import capability
2 colour pen set (Black & Red)
Pen Holder
Standard Mat
Standard Cut Blade
Standard Cut Blade Holder
Touch pen
Spatula
Instruction Booklets
I filmed an unboxing video and if u wish to watch it here is the link...
watch it here/watch it at youtube
thank you for stopping by..
love
Arjita