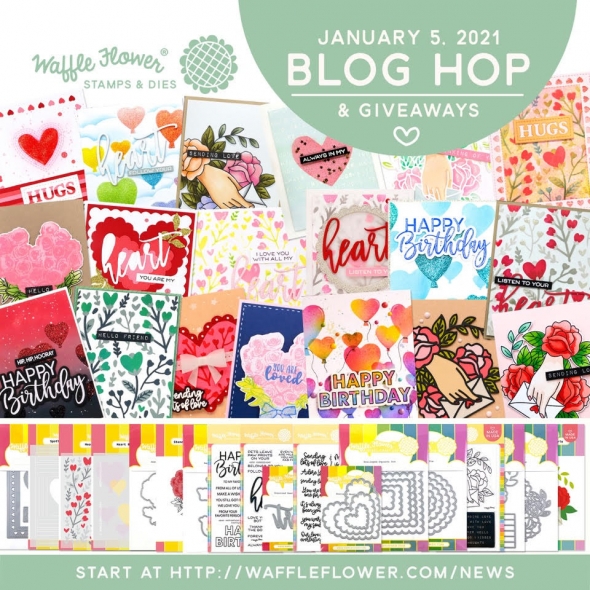 Welcome to Waffle Flower's January 2021 Release day! We're blog hopping today to show you all the new goodies waiting for you on the website 
here
  This month, Waffle Flower is starting the year afresh with 4 stamp sets, 3 matching dies, 6 dies,1 stencil-n-stamp, and 4 stencils! 
 With February around the corner, Waffle Flower is getting ready for Valentine's Day with two classics, hearts and roses! This release is full of ways to share the love with family and friends!
To get your floral fix, there's Love Letter (stamp, die, combo, stencil, outline die) and Rose Bouquet (stencil-n-stamp, die, combo). With a heart theme, there's the Heart Balloons Stencil Duo (stencil), Heart Blooms Stencils (stencil), Heart Frame Die (die), and Heart Spotlight Stencil (stencil). To coordinate with all of the lovely hearts and roses, Waffle Flower has a trio of shape dies with charming scalloped edges with the Scalloped Hearts Die (die), Scalloped Circles Die (die), and Scalloped Squares Die (die).
To round out the release, Waffle Flower has three fun sentiment sets, Oversized Heart (stamp, combo, word die), Sending Love Sentiments (stamp) and Happy Birthday Sentiments (stamp, die, combo).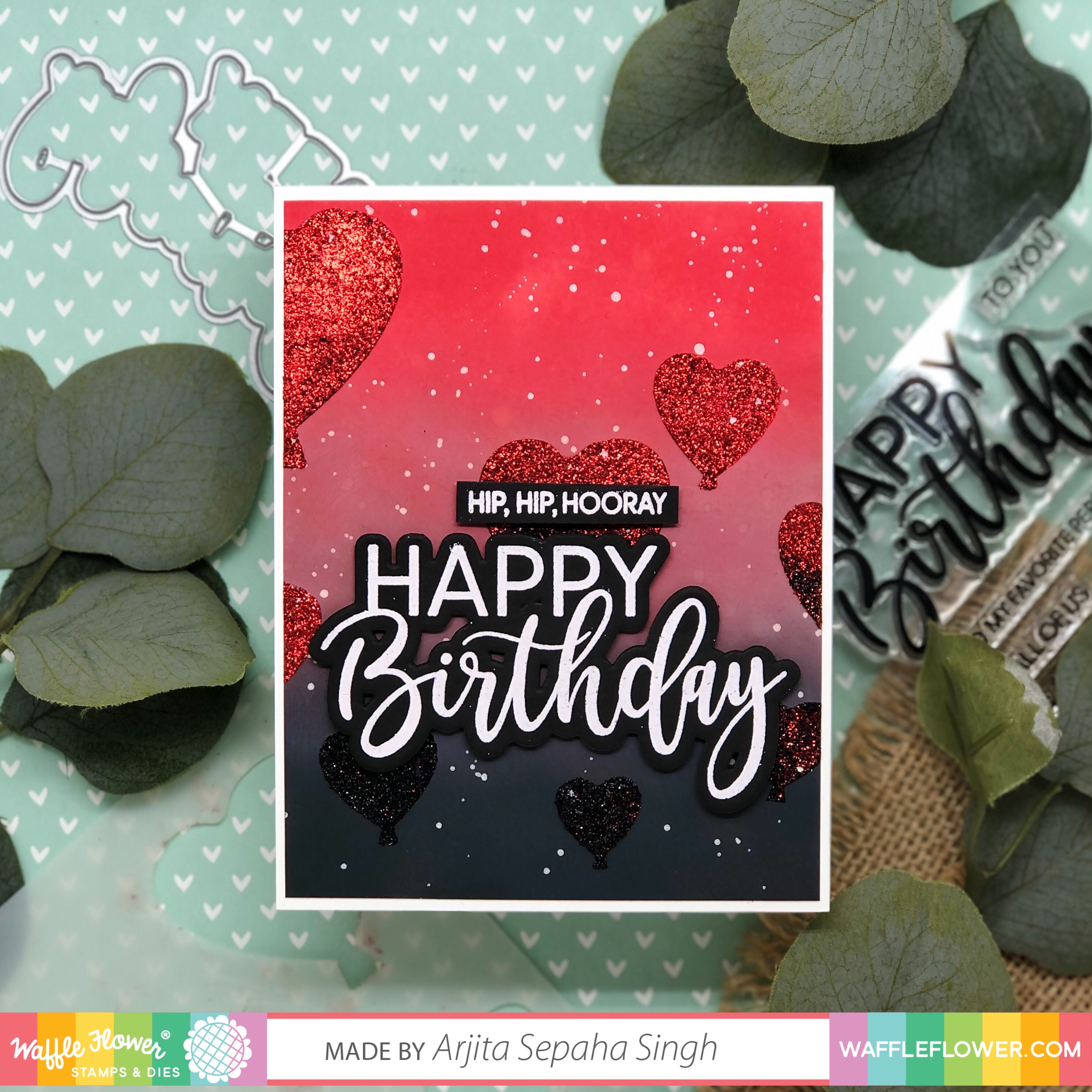 This month, we've also got the super versatile Happy Birthday Sentiments Stamp. Like the Happy Retirement Stamp, this set comes with two large "Happy Birthday" stamps, one in a lovely script font and the other in a modern outline font, and a plethora of smaller sub sentiments. With this set, you'll have everyone's birthday covered!
For this card I used the new Heart balloons dou Stencil and the Happy Birthday stamp & die set. I blended three distress oxides inks and then added some red & black glitter paste through the stencil.Finally I heat embossed the word happy birthday with white embossing powder on black card stock and used the coordinating die to cut it out. I used double sided tape to adhere it on top on the stencilled background.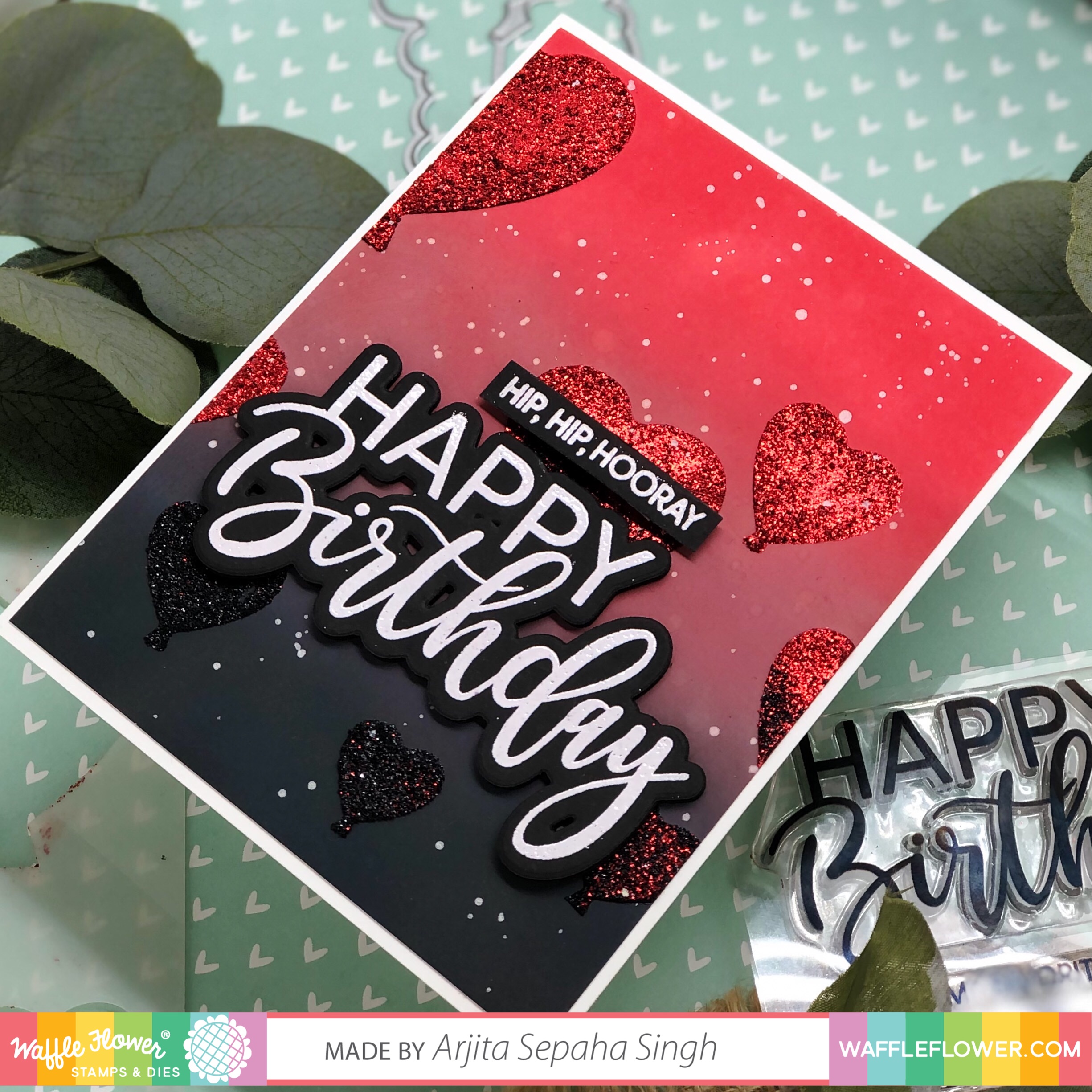 For the second card I used the gorgeous the Heart Blooms stencil trio that can be used to create a full multi-color background of blooming hearts and leaves.This is a multi set stencil set. Creating this beautiful floral pattern is super easy and a lot of fun. I used two shades of grey and two shades of red to create the gorgeous card.I love the Oversized sentiments by Waffle Flower Crafts and the one I used for this card is no exception.The word "Heart" is perfect for all your valentine's day cards and can be used all year round.
These stamps and die will have friends and family feeling the love with a variety of "heart"-felt messages.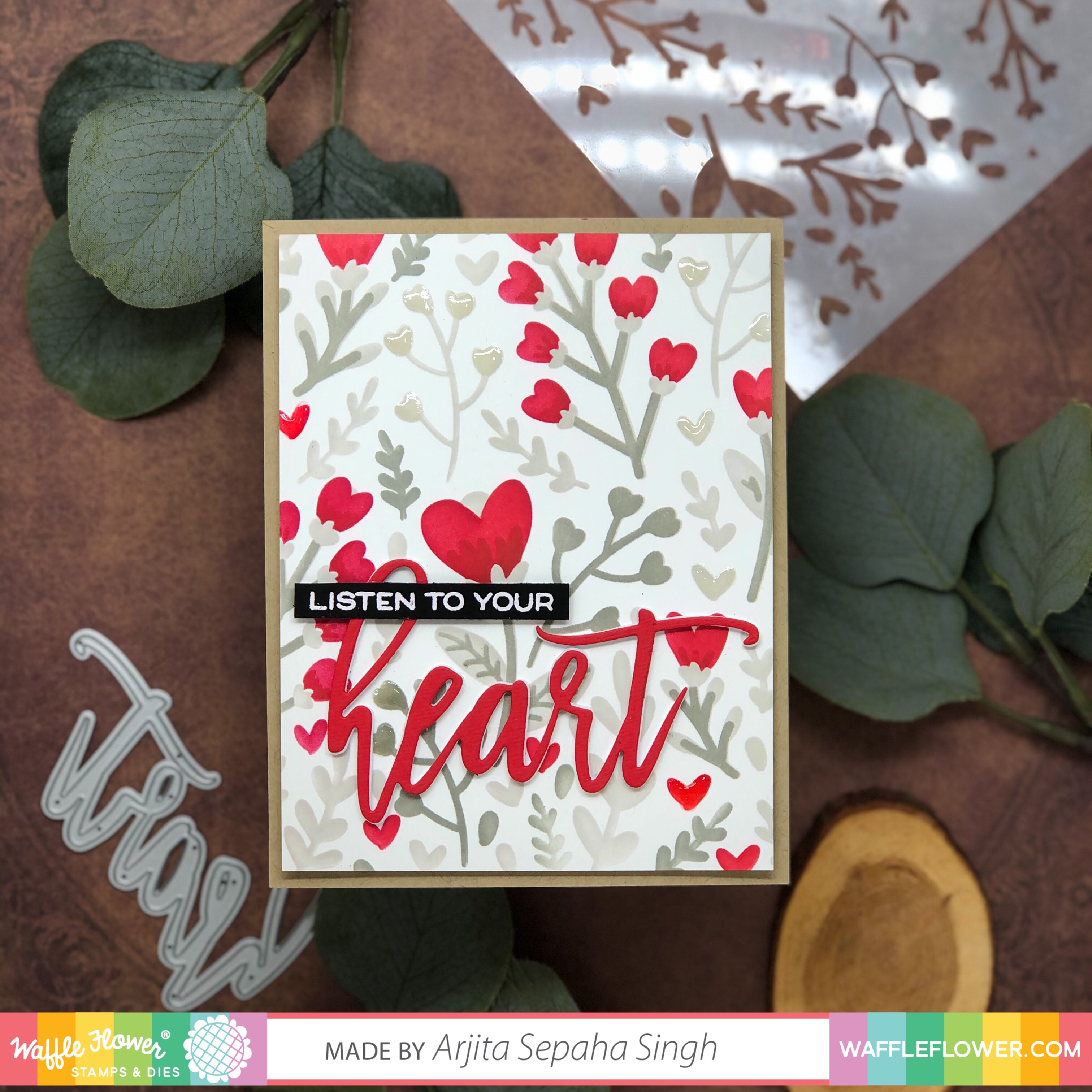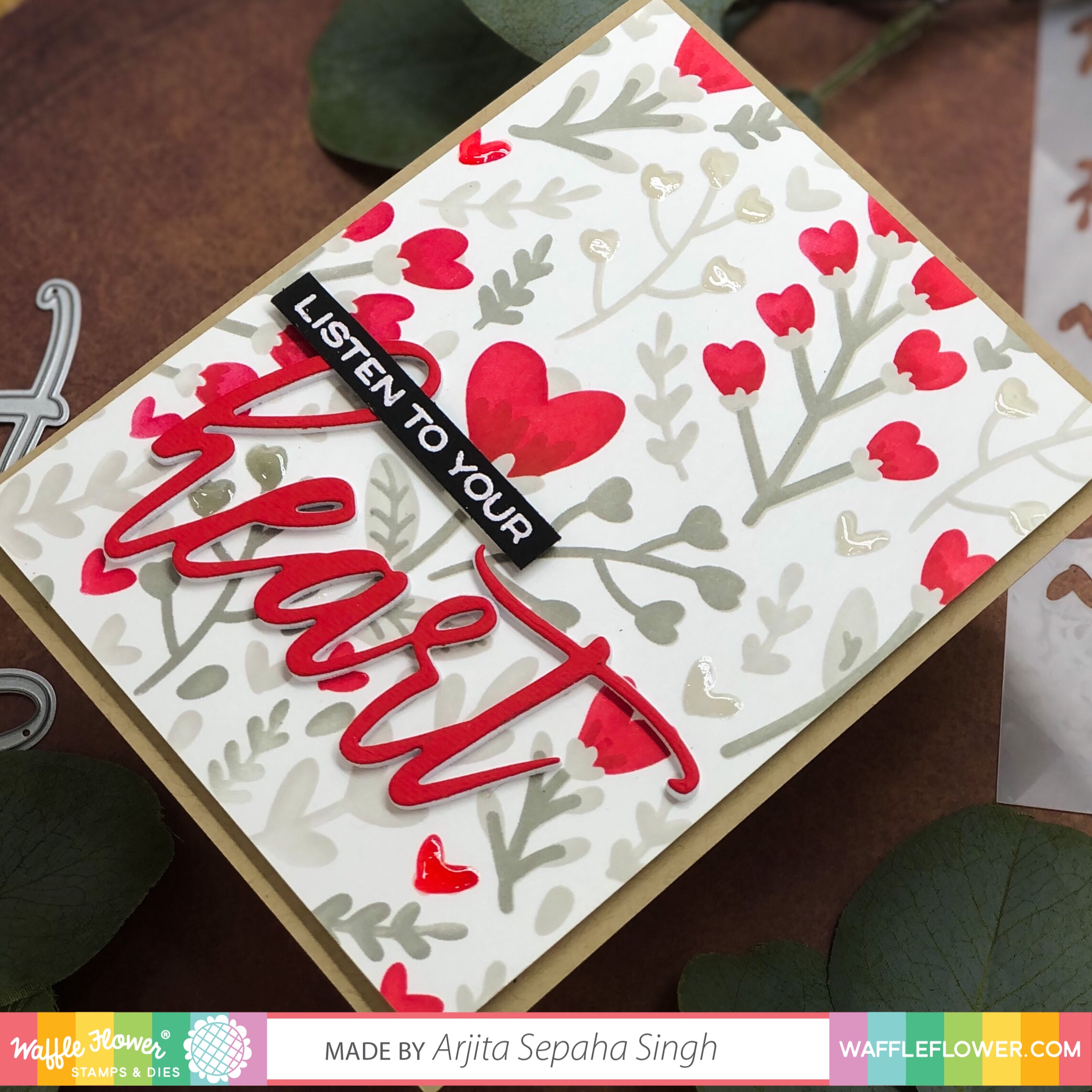 The next card is super cute and super unique.
The Rose Bouquet stencil-n-stamp features a heart-shaped rose bouquet that can be used alone or with the accompanying flowerpot stamp. The stencil makes it so easy to get that tone-on-tone shaded look of the roses!
I have never seen any stamp which can create a rose bouquet like this.This is a two set stamp which can give very realistic looking roses.I coloured the vase and leaves with copic markers and also added a glitter bow using the die.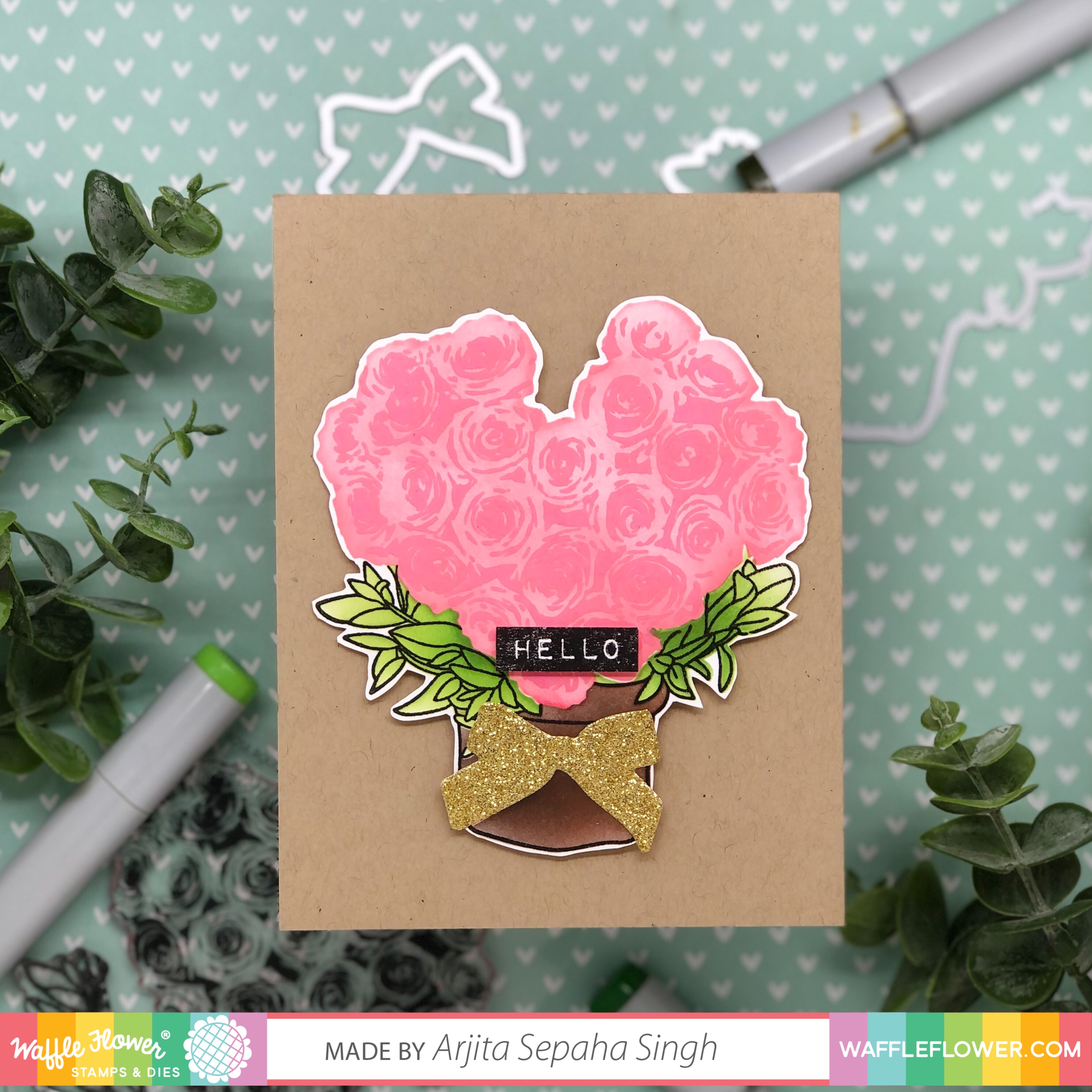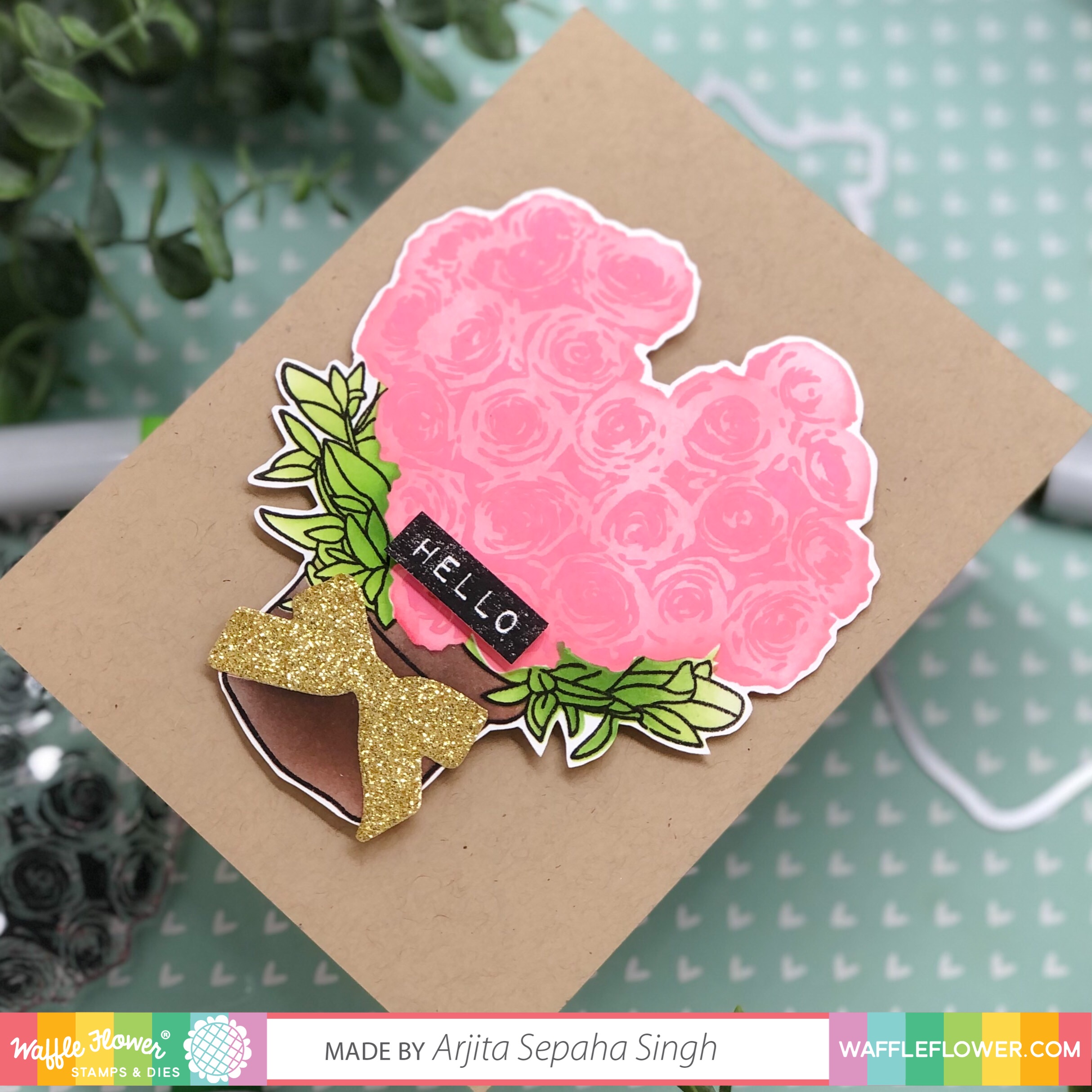 Last but not least the Hearts Frame Die is going to be a must have for everyone. The frame design allows you to have some fun with layering but still have lots of space for sentiments and other stamping. This die set also includes a HUGS label die and a heart texture die.For the card I used the stitched heart die to repeatedly create a pattern on a white card base and then added the Hugs die. I added few leaves to add more interest and beauty to the card.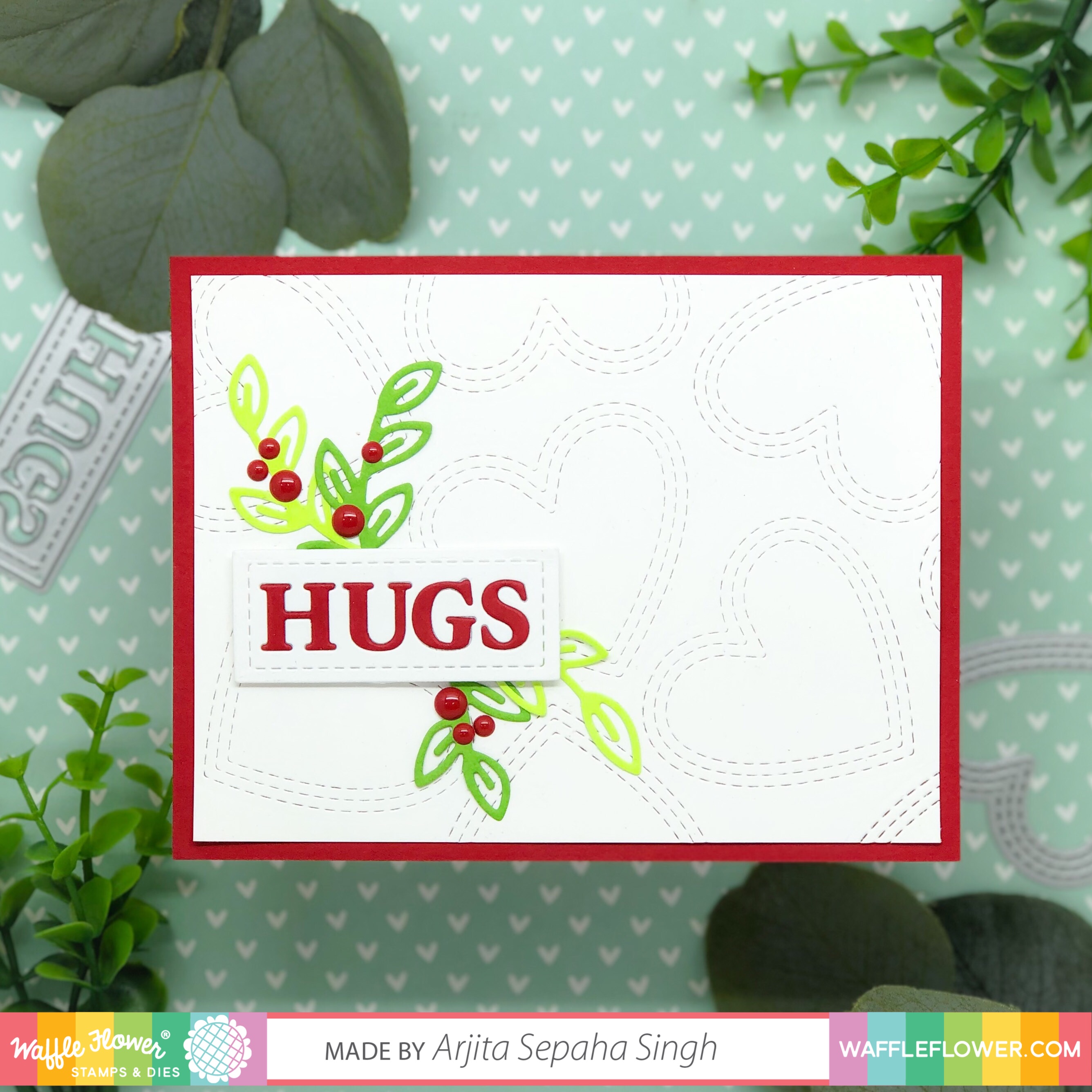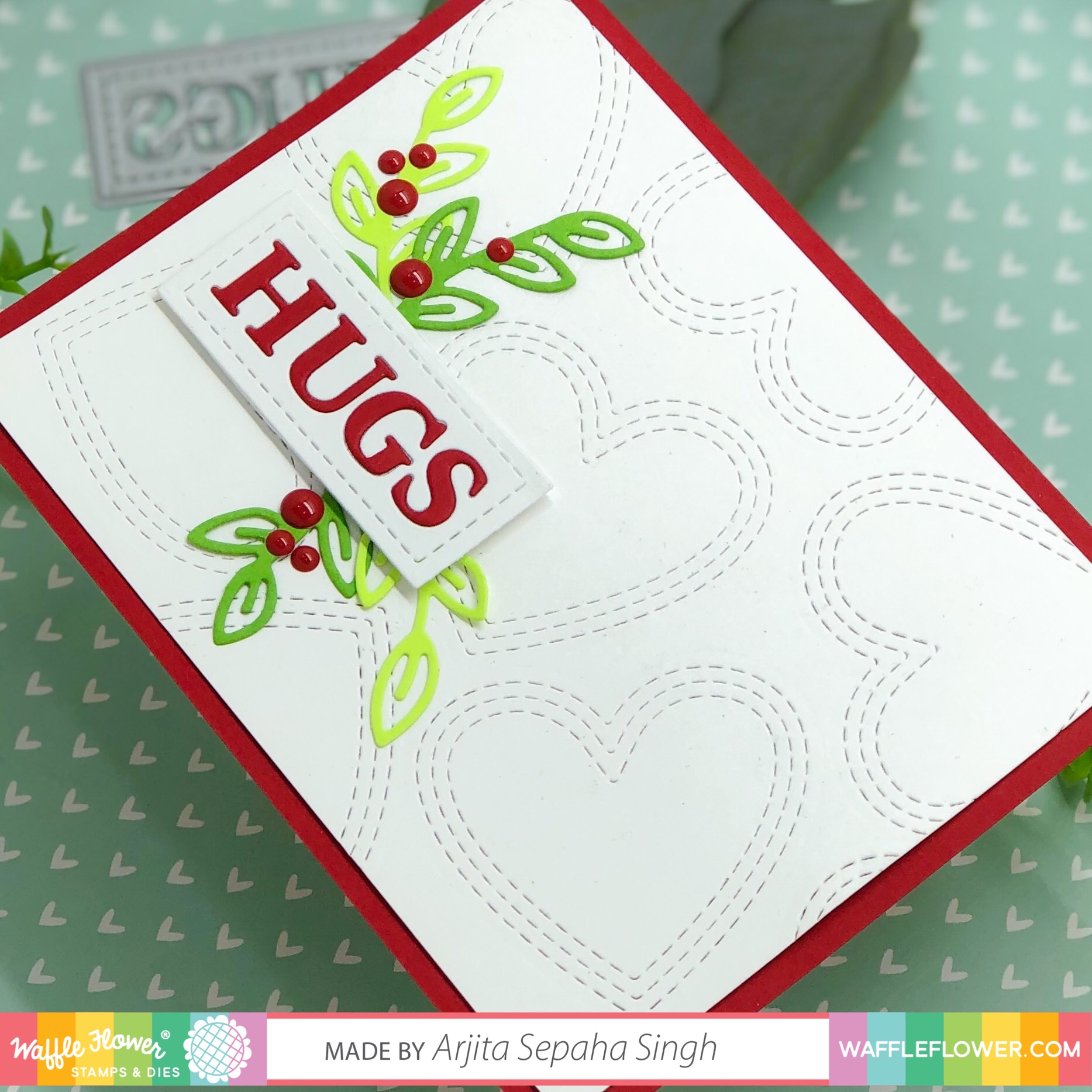 For the next two cards I used the LOVE LETTER collection that includes a stamp set and matching die, outline die, and stencil. This collection can be used in different combinations depending on your preference. If you love to do your own coloring, the stamp set and matching die is the option for you.
For the first one I used the outline die to cut the design with colored papers and inlaid/layered the paper pieces.For the second one I just simply copic coloured the image. Both the images are same but still the cards look absolutely unique and beautiful.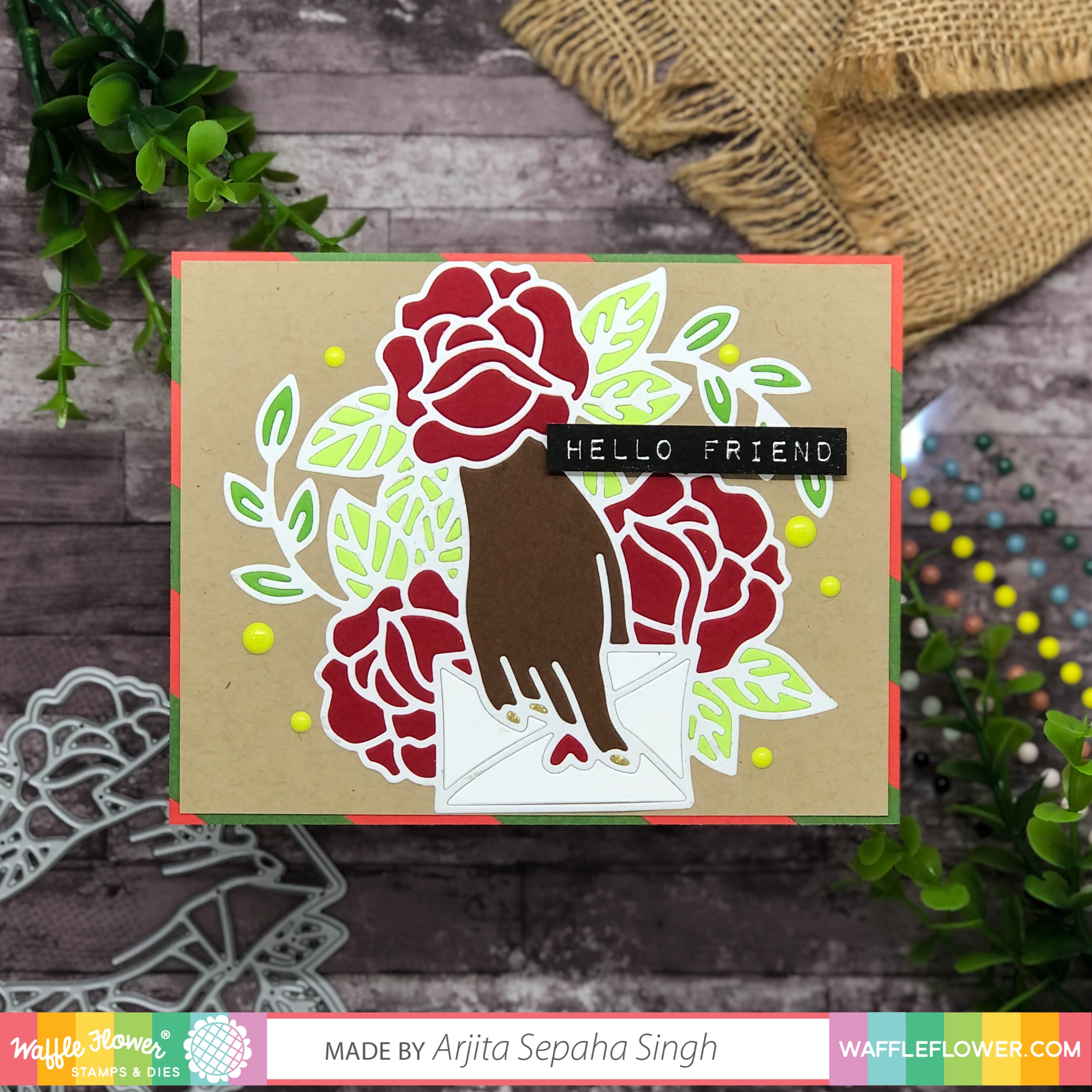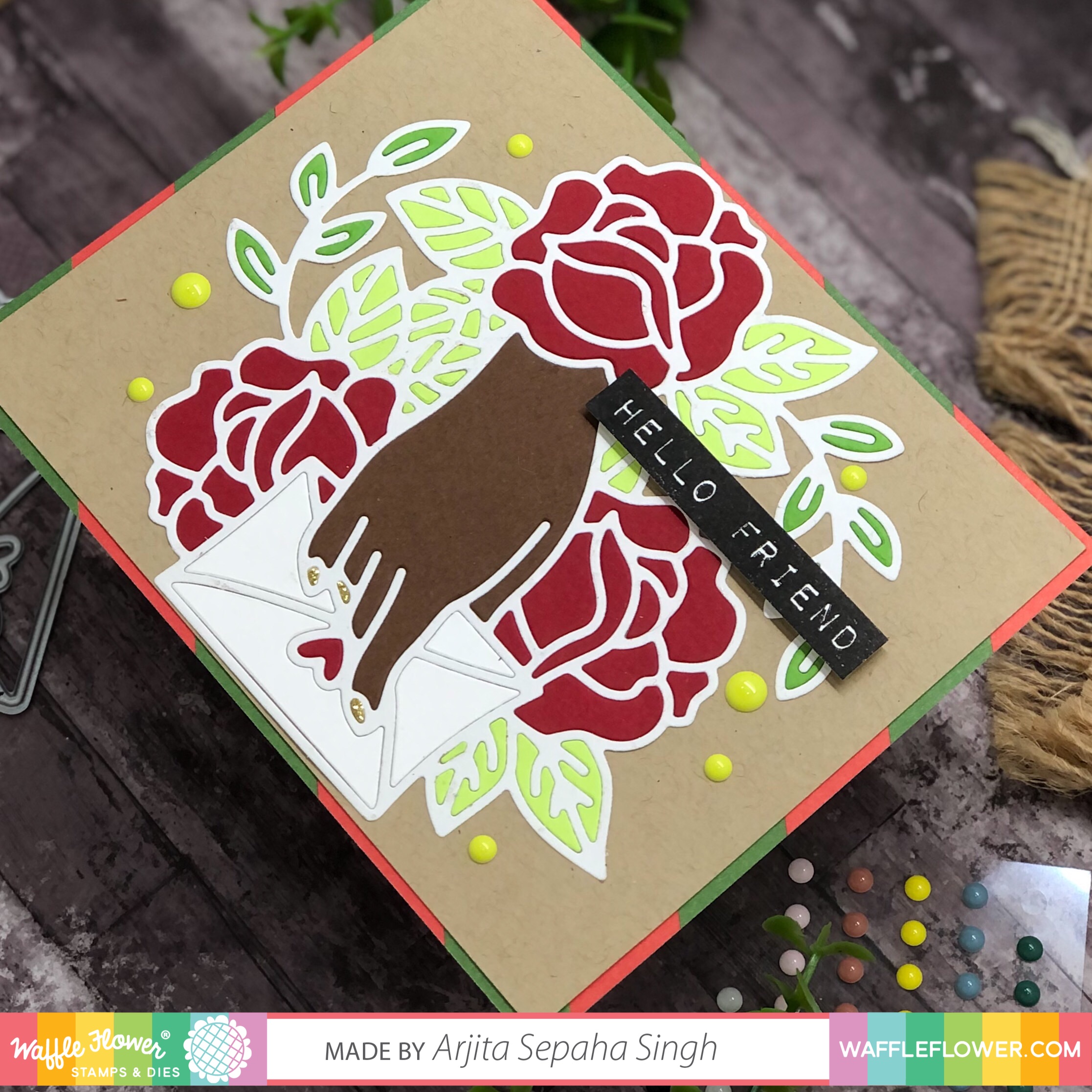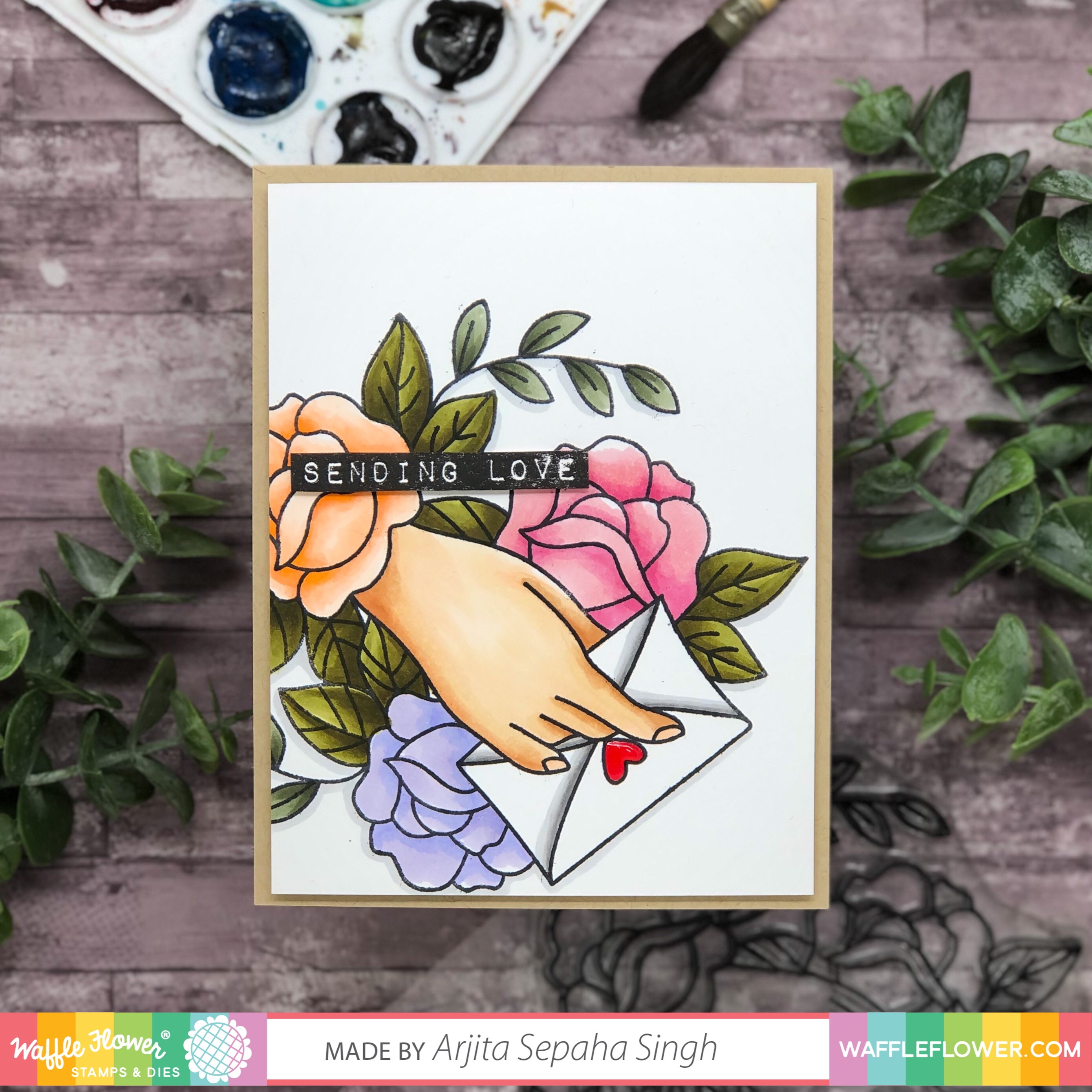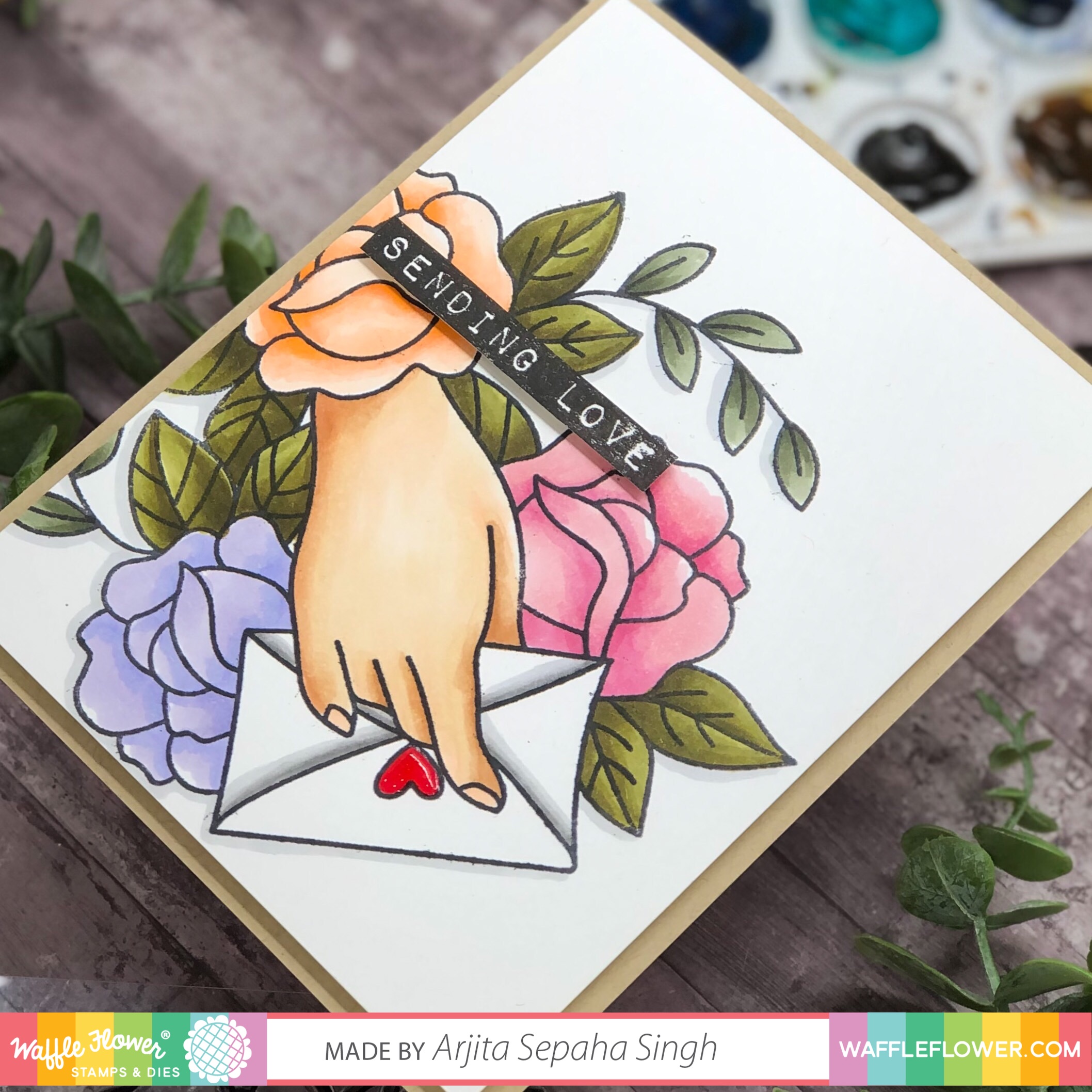 —HOP DETAILS—
For today's hop, Waffle Flower is giving away $25 gift certificate to THREE lucky winners. You can leave a comment on this blog and along the hop by 11:59pm EDT on Monday January 11th, 2021 for your chances to win. Winners will be chosen at random from the comments left on any of the posts in this blog hop and will be announced on the
Waffle Flower Blog
on 1/13/2021.
There are more giveaways to enter on our Instagram! Follow us at
@waffleflowercrafts
so you don't miss out!
Specials:
For those of you who are new to Waffle Flower, they have a
Last Chance
section on their website that lists many goodies for 25% off until they are gone! This would be a great place to start your collection!
Link to the full collection:
Thanks for hopping with me today!
Hugs
Arjita